In this month's Diamond Previews, by popular demand: Top Shelf presents an elegant new hardcover edition of From Hell, one of the enduring masterworks of the graphic novel form. This new edition, and the much-anticipated reprint of Aaron Renier's classic all-ages adventure Spiral-Bound, are both available for pre-order from your favorite retailer, for release in September!
From Hell (New Hardcover Edition) by Alan Moore & Eddie Campbell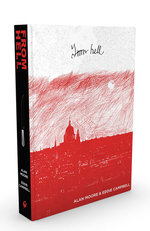 ISBN 978-1-60309-397-2 • Diamond: JUN16-0567
560-page hardcover graphic novel • $39.99 (US)
For mature readers (18+)
"A seminal graphic novel." — Kirkus Reviews
"Remarkable." — The New Yorker
"Fearsomely complex." — Publishers Weekly
"Positively intoxicating." — The Guardian
"Both creators are at the top of their game… a hypnotic read and perpetual re-read." — Rolling Stone
"A great work of literature." — Amazon
"My all-time favorite graphic novel … an immense, majestic work about the Jack the Ripper murders, the dark Victorian world they happened in, and the birth of the 20th century." — Warren Ellis, Entertainment Weekly
The award-winning classic by Alan Moore & Eddie Campbell returns — in hardcover — with a powerful new cover design!
Two of the greatest creators in the history of comics. Eleven unsolved murders. One sprawling conspiracy, one metropolis on the brink of the twentieth century, and one bloody-minded Ripper ushering London into the modern age of terror. From Hell, often ranked among the greatest graphic novels of all time, is now available in a handsome hardcover edition, with a brand new cover design by Eddie Campbell & Chris Ross. — a 560-page hardcover graphic novel.
Pre-order now for release in September 2016!
Also returning in September:
Spiral-Bound by Aaron Renier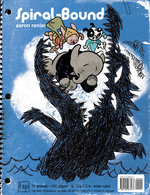 ISBN 978-1-891830-50-1 • Diamond: JUN05-3272
184-page softcover graphic novel with rounded corners • $14.95 (US)
For all ages (10+)
Winner of the Eisner Award!
"Brilliant! Aaron Renier has created a playfully mysterious universe, complete with its own dreamlike logic. It's a delightfully inventive treasure." — Dav Pilkey
"Exactly the sort of novel I have been looking for." — Lemony Snicket
"Spiral-Bound is a lush magical landscape… It reminds us of the joy of discovery, and of finding oneself." — Craig Thompson
With an ensemble cast straight from a box of Animal Crackers, this delightful tale of ambition, morality, and self-discovery is an all-ages classic. Drawn in a decidedly beautiful fashion, reminiscent of Richard Scarry and Lewis Trondheim, Aaron Renier gives us a fully realized and compellingly adventurous narrative, at once both achingly naïve and profoundly worldly. This tightly-crafted graphic novel is the real deal, and will charm your socks off.
Pre-order now for release in September 2016!