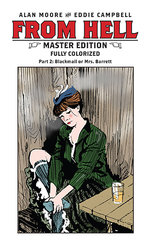 "What Doth the Lord Require of Thee?" Blackmail and black magic — and one unforgettable tour of London — come to life in full color!
"My all-time favorite graphic novel … an immense, majestic work about the Jack the Ripper murders, the dark Victorian world they happened in, and the birth of the 20th century." — Warren Ellis, Entertainment Weekly
Experience FROM HELL as never before: fully restored and in color for the first time!
This volume contains Chapters 3 and 4, as well as all the original annotations.
Co-Published by Top Shelf Productions (US) and Knockabout (UK).
From Hell: Master Edition #2 (of 10)
by Alan Moore & Eddie Campbell
$7.99 (US) • 72 pages • full-color prestige-format comic book (with spine and 3" flaps)
Diamond order code: SEP180779
Check out 4 preview pages now and pre-order at your favorite comic shop for release in NOVEMBER!